Frontier 4-Wheelers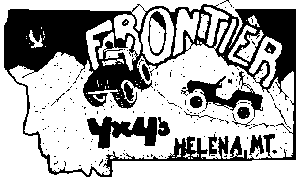 Helena, Montana's Frontier 4-Wheelers was incorporated in 1974 in the capitol of Montana.
We are a family oriented club. We typically hold a trail ride one weekend a month, usually on Saturday. Our regular meeting location is in the parking lot at Murdoch's/McDonalds at Montana and Custer avenues. We meet at 9am and depart sometime shortly after.
Everyone is welcome. Please bring a vehicle in good condition, tow hooks front and rear, a tow strap, spare tire, along with your personal gear - lunch and appropriate attire. Remember, this is Montana and even in the middle of summer we may be wheeling in the snow!
Fire extinguishers and CB radios are encouraged. We use CB Channel 4.
Meetings are held the first Wednesday of the month, 7pm, at the Staggering Ox on Euclid (down from Vann's Thriftway). In the meeting room back at the Red Atlas area. Either ask for the meeting room location, or walk down the hallway shared with Ben Franklin Crafts and walk into the Red Atlas (around the back of the Ox). Walk into the Red Atlas and immediately turn to your right to find the meeting room.
Club dues are $50/yr, due in January. You must attend two meetings and one club function before being voted into the club.
The 2012 Officers are:
President: Richard Hiltz
VicePresident: Joe Skaggs
Secretary: Mary McGirr
Treasurer: open position
RVP:
Bylaws
Frontier Stories
Frontier Discussions
Frontier Image Gallery