Helena's Frontier 4 Wheeler - Trail ride 13 Feb 2011
Helena's Frontier 4 wheelers, Sunday's trail ride started in Murdock's packing lot where 14 trail rigs and a handful of guests gathered. After fueling up the rigs and grabbing some breakfast, Tom passed our plans of where our trip was taking us. We headed up through the town of York, took a left at the York Bar and proceeded north to Nelson, the "Cribbage Capital of the World" (according to the sign as you approach the small town). Mother Nature threw a few obstacles in our way to help make the run a little more challenging. We first encountered roads coated with ice, followed by areas of fallen rocks, then trees lying across the roadway and as we gain altitude (not attitude) there was snow! The higher we traveled the more the snow we encountered. Very few rigs were untouched by the uses of tow straps and winches. The kids in our exploration found time to enjoy some great sledding while the adults were freeing each other from obstacles Mother Nature placed before us. Thanks to Tyler Gordon's mother we received a tasteful pot of homemade chili during our stop for lunch. One rig had to be towed out the area while one was left for a while to cool down from a overheated transmission, The trail ride end with a burger from York Restaurant/Bar and good company, It was a Great day for wheeling!!!
Mon, 02/14/2011 - 22:18
#2
RE: Helena
Pictures are located in the Gallery under Frontier 4 wheeler 2011 album and on Facebook under "Frontier 4 Wheeler (Helena, Mt)"
Thu, 02/17/2011 - 18:13
#3
Tom's Pictures Joe's
Tom's Pictures
Joe's Pictures
Richard's pictures
We had quite a few rigs!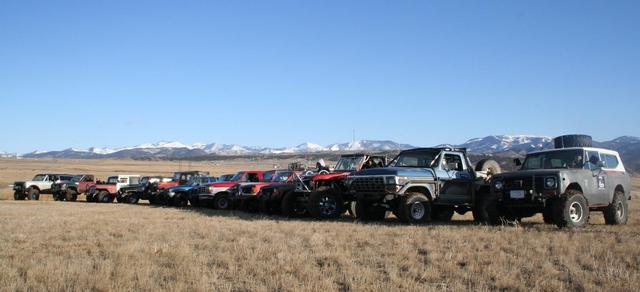 Thanks for the good times, and Richard and Joe, thanks for the great pictures.
First time I managed to go snow wheeling since last February when I grenaded the T19 4spd.
-Tom